Agents and Resellers
A+ offers agents some of the lowest buy rates in the industry.
---
Watch our Master Agent Video
Private Label Program
---
Audio & Web Conferencing Agents
As an A+ agent, you will receive a set of low buy rates that allows you to establish your own prices and make 50% margins or better. We provision, bill, collect and then remit to you the difference between the buy and sell rates.
To have a copy of the agent package sent to you, please enter your email address below and click "Go". You will then receive an email guiding you to a link to retrieve the proper information. If you have any questions on the Master Agent program, please email Mike Burns or Susan Farraj or, you may call either of them at 888-239-3969.
We look forward to a very successful and profitable relationship for both of us.
---
Audio and Web Conferencing Resellers
Low wholesale buy rates and exceptional customer service for resellers. A+ Conferencing provides resellers with the following:
Private labeled reseller services
We can answer your line with a customized greeting in your name
Private label certain web conferencing services
Private labeled teleservices including
Outbound and inbound telemarketing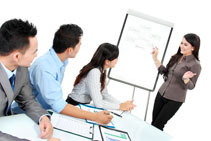 We provide the reservations, operator services, automated calling, customer service, billing, collections and remit the difference between your buy and sell rates on a twice per month basis. If you would like to do your own billing, we can send you the call detail.
If you have any questions, please email Mike Burns or call him at 888-239-3969. for more information — or to receive a reseller contract, fill in your e-mail address below and we will send you one immediately.
---
AUDIO & WEB CONFERENCING PRIVATE LABEL RESELLERS WANTED
Our Private Label Reseller program features low wholesale rates, which allows you to offer your customers some of the best retail rates in the business.
To receive more information on the Private Label Reseller program, please input your e-mail to your right and click "Go", or just call us at 888-239-3969.
---